Observing the event with participation – a well-known anthropological method – I consume a welcome drink and among strong hairstyles, dress combinations and expensive shoes, I wonder – why is a handkerchief from the upper pocket of a jacket a reflection of subtlety and sophistication? Why is it placed on the left side?
There is something in it that the person carrying it gives a dose of sophistication – whichever type of the liquor melts ice-cubes in her glass.
Pocket Square itself is not functional, unless some damsel in distress starts crying in front of you. But again, the goal of fashion is not that it is functional – but irrational and changeable! Anyway, although it has no daily practical use, it is a fashionable accessory and above all, it represents a style.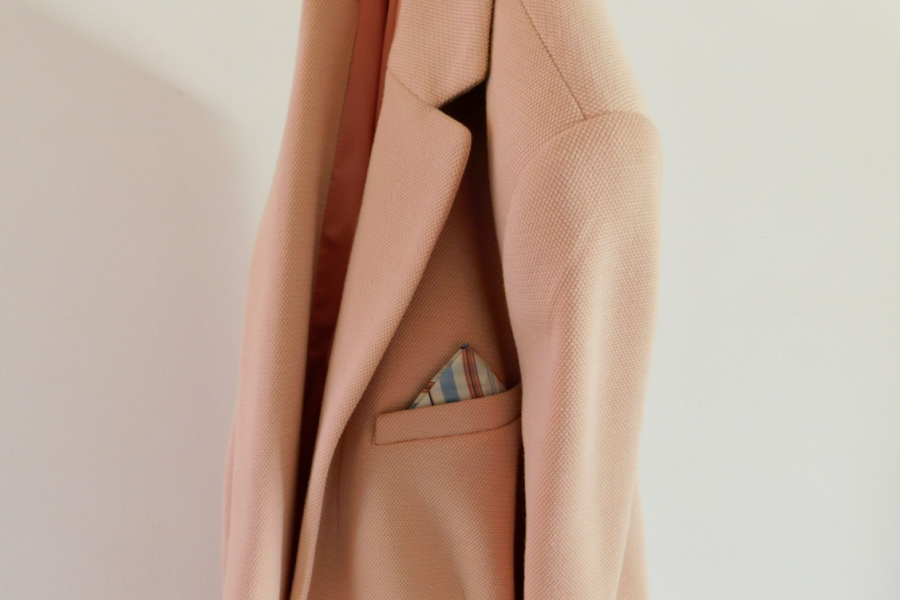 Of course, that was not always the case.
Pocket Squares that, in modern times, moved into the upper pocket of jackets, blazers or coats, had their origin of use in various, sometimes incompatible sources.
In the initial times handkerchief had a simple use – it was used for absorbing sweat from face and neck, or to wipe one's nose.
At the end of the eighteenth century, women waved with it as a sign of approval at public events such as political gatherings.
In the Balkans, it is known that the ringleader holds a handkerchief in a hand with cyclical movement.
Every new circumstances and context dictate how the most common piece of fabric can be used to send a particular message.
Patenting paper disposable wipes made it possible for Pocket Squares to be used as a fashion detail.
Even though notions of pocket squares and handkerchiefs are use interchangeably, we should note that the one "is used for show and the other for blow".
The esthetization of the clothes as a daily dress-up for men and women Pocket Square became a fashion trend of the 1920s. Its use as a key fashion accessory was also popularized by public figures such as mysterious millionaire Jay Gatsby, actors like Clark Gable and later by Fred Astaire and others.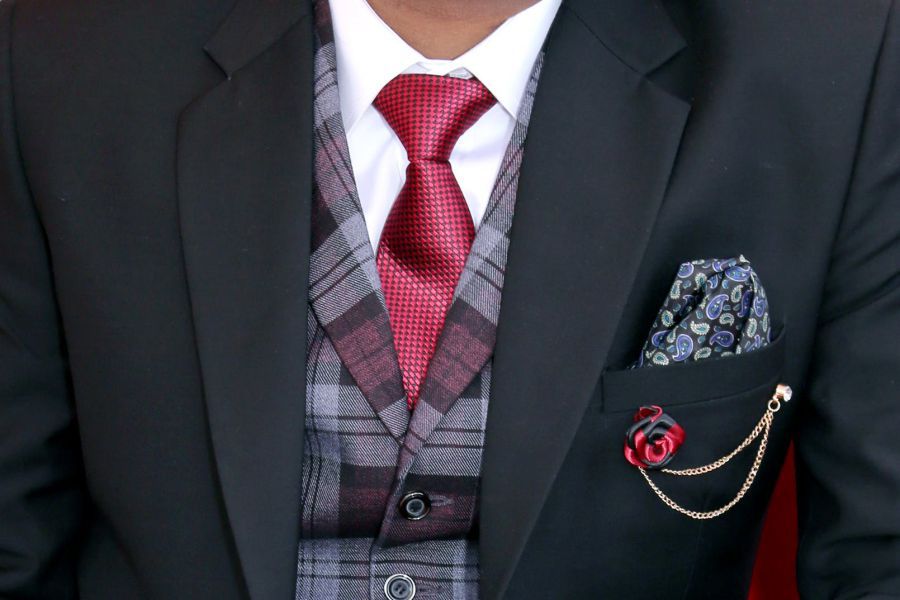 With the development of the fashion industry, variations in design and coloration of Pocket Squares remain a field in which changes can be made, while standardization of 16×16 inches is introduced into fashion trends. These design variations contribute to highlighting the style of the wearer and, to some extent, constitute an overture to her personality.
It is not necessary that you will first notice someone on your own only due to this fashion appendage, but it will definitely make him/her stand our from the crowd and may encourage you to find out something about that misterious person.
Мистериозна ситница која доноси софистицираност
Посматрањем забаве са учествовањем – познат антрополошки метод – учествујем конзумирањем пића добродошлице и од силних фризура, одевних комбинација и скупих ципелица, ја се запитам – зашто је марамица која вири из горњег џепа сакоа одраз префињености и суптилности? Зашто се баш налази на левој страни?
Има нешто у њој што особи која је носи даје дозу софистицираности – ма које пиће топило коцке леда у њеној чаши.
Pocket square (џепна марамица) сама по себи није функионална, сем уколико се нека damsel in distress не расплаче пред вама. Но опет, циљ моде ни није да она буде функционална – већ ирационална и променљива! Елем, иако нема свакодневну и практичну употребу, представља модни аксесоар и пре свега репрезент је стила.
Наравно, није то увек било тако.
Марамица која се у модерно доба преселила у горњи џеп сакоа, блејзера или капута своје употребно порекло може имати у различитим, некада неспојивим изворима.
У првобитно време имала је просту употребу – упијала је зној са лица и врата, прехлађени су је коситили да обришу нос.
Крајем осамнаестог века жене су њом махале у знак одобравања на јавним догађајима попут политичких окупљања.
На Балкану је познато да коловођа приликом игре у својој руци држи марамицу којом врти у круг.
Свако ново просторно окружење и временска условљеност диктирају начин на који се најобичније парче тканине може искористити да шаље одређену поруку.
Патентирање папирних марамица за једнократну употребу омогућило је да се џепне марамице користе као модни детаљ.
Иако се не прави разлика између употребе модерних џепних марамица, треба имати у виду да једне служе показивању, а друге стварној употреби.
Естетизацијом одела као свакодневне одевне комбинације за мушкарце и жене џепна марамица постала је модни тренд двадесетих година прошлог века. Њену употребу као кључног модног аксесоара популаризовале су и јавне личности као што су мистериозни милионер Џеј Гетсби, глумци попут Кларк Гејбла а касније и Фред Астера и други.
Са развојем модне индустрије варијације у дизајну и колорацији остају поље на којем је могуће вршити промене, док се у модне токове уводи стандардизација величине од 16×16 инча. Ове варијације у дизајну доприносе да се истакне стил особе која је носи, и донекле представља увертиру у њену личност.
Није нужно да ћете прво на некоме уочити да ли на себи има или не овај модни додатак, али ће се њом дефинитивно истаћи из гомиле по својој мистериозности и можда вас подстаћи да нешто о њој и сазнате.